Hungarian Mushroom soup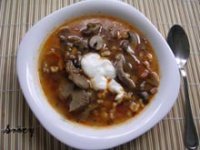 I would like to favor my veggie friends with the Hungarian Mushroom soup, as this soup - together with the Hungarian Mushroom stew -, can also provide the feeling of the unrivalled Hungarian food without tasting any meat.
Of course if you are not veggie, but you like mushroom in Hungarian style this soup is a perfect choice for you as well.
Furthermore the preparation of this tasty soup is not very complicated and doesn't take to much time.
So, why not to try out?
What kind of ingredients you will need?
25 dkg mushroom
10 dkg carrot
10 dkg turnip
3 tablespoon oil
2 tablespoon flour
2 dl sour cream
1 small onion
Parsley
Ground black pepper
Salt
1 teaspoon paprika (preferably Hungarian paprika)
How to prepare?
Clean and slice the mushroom. After you cleaned the carrot and turnip, dice them on small cubes.

Clean and slice the onion and fry it on hot oil until it is wilted. Take it from the stove and mix up with the paprika. Add the mushroom and vegetables and the fine-cut parsley to the onion. After the vegetables are little bit fried add 1-1.5 liter water, salt and pepper.

Let the soup cook for a while.

In the meantime mix up the flour and sour cream and make Galuska – Little Hungarian dumplings as I have written on the Hungarian goulash page.

After you are ready with the Galuska, put the mixture of flour and sour cream into the soup and add the little dumplings to the soup and cook them in the soup. Stir the soup continuously until it is ready.

The soup is ready when all ingredients are soft.
I think it is needless to mention that you should taste couple of times your mushroom soup and you can adjust the salt and pepper according to your taste.
I hope you enjoyed the cooking of this traditional Hungarian Mushroom Soup. If you want to share your cooking story with us or you just need some help, please don't hesitate to contact us.
Backt to the top of this Hungarian Mushroom Soup page

Back to Hungarian food page

Back to the Home page of best-things-in-hungary.com